UNIQUE IMMERSIVE EXPERIENCES WITH GURU VR
The world's most advanced 360º platform
State-of-the-art technology
Virtual reality, virtual tours, immersive 360-degree experiences and unlimited customization are brought together in a revolutionary software that is unique in the market, with an intuitive and easy-to-use interface for you to experiment with a host of unique possibilities.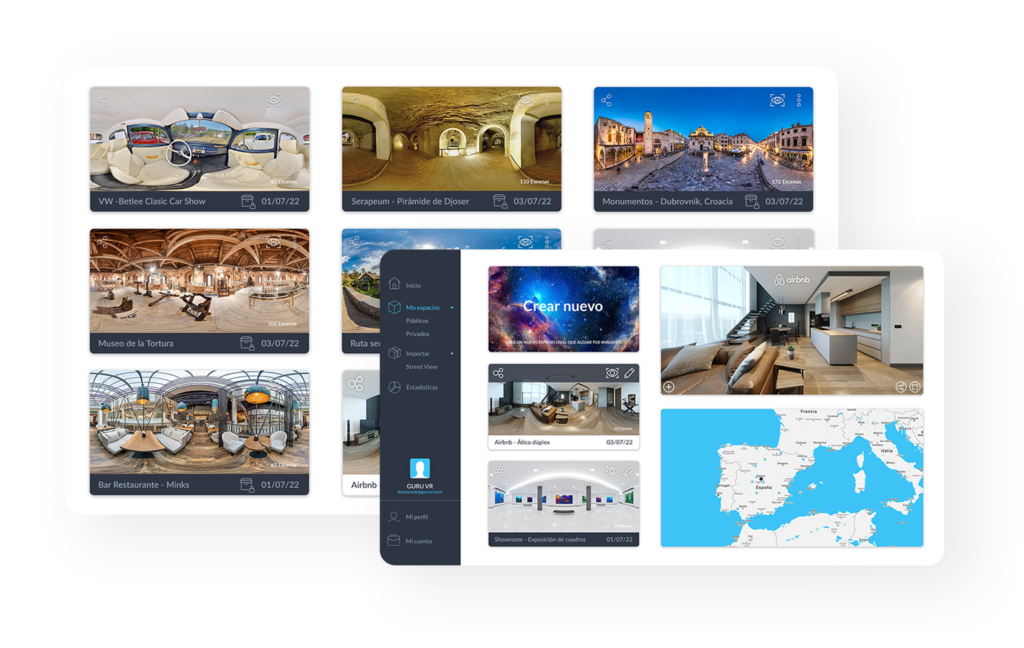 Capture and share in minutes!
GURU VR App is a revolution in the creation of virtual spaces. With our leading technology in efficiency, capture unlimited scenes in seconds by simply moving the camera and pressing a button. Enjoy the fastest and easiest app on the market, so you can spend your time on what really matters, your business and your customers.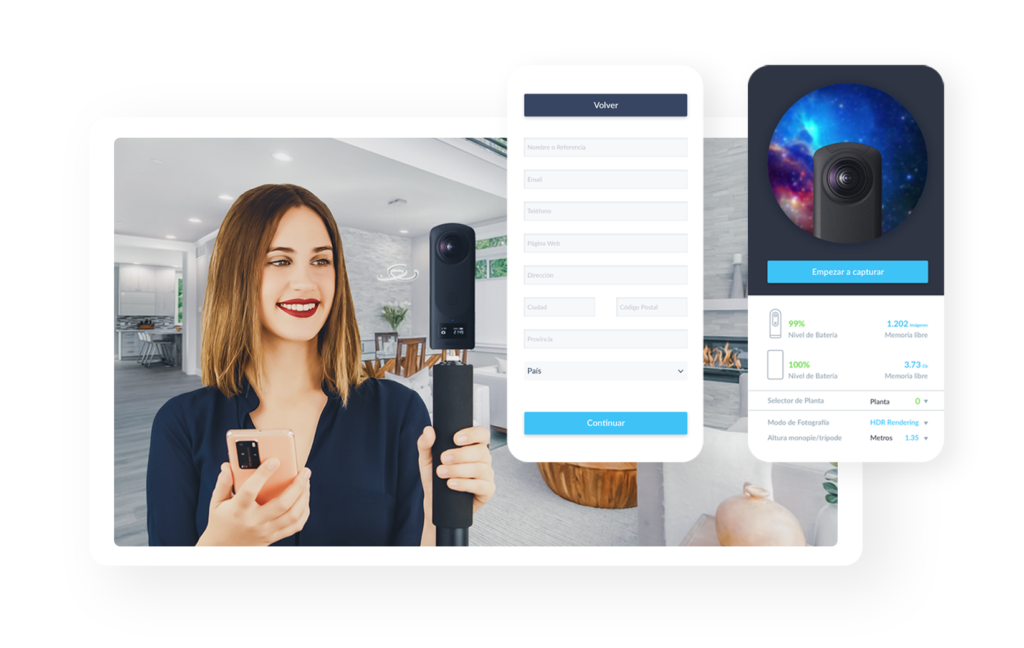 Unparalleled immersive experiences
Explore and observe in detail while you navigate with ease thanks to our new and intuitive control system. Forget about arrows, circles or impediments, with our customizable viewer you will live a unique experience in which only you and the virtual space will be the protagonists.
EXPAND AND IMPROVE YOUR ONLINE PRESENCE
Give your brand the image and visibility it deserves!
CREATE YOUR VIRTUAL ENVIRONMENT WITH THE GURU VR APP
Virtualize and share
minutes
With the GURU VR App you can easily virtualize any space to increase visibility, impact and sales regardless of where your audience is located.
Create a virtual fair, show what your premises look like or sell a property thanks to the high quality 360º spaces that our application allows you to generate in a matter of minutes, always available regardless of the device.
Unlimited spaces
Build your own metaverse with your virtual spaces, generating and linking as many as you want. Access at any time to replace scenes, edit or expand.
Publish immediately
Don't wait a minute to share the result. Once the uploading process is finished, your virtual space will be ready to share, export or insert where, or with whom you want.
FASTER TO CREATE IT THAN TO EXPLAIN IT
Virtualizing your spaces is that easy
Sign up, download the app and link your 360º camera to your mobile device to photograph your spaces. Or use our web version to directly upload your 360º scenes or renders from your computer.
Get an even more immersive experience by adding as many interactive elements as you want. GURU VR immediately processes your space so you can start customizing it right after uploading images.
Sell more, sell better, sell now!
Virtual spaces increase people's interest 300% more than 2D photographs, improve the image, user experience and perception that customers have about your business while increasing your profits. In one click share where, how and with whom you want.
Do you prefer to hire a professional?
Get the highest quality results when creating your interactive space with our expert photographers and editors.
This option is ideal for you if you do not have the necessary means or are looking to go a step further in shaping your project.
With the confidence of business leaders
APPLE STORE
Our virtual space has become a true reflection of our physical store thanks to the many details we have been able to add. Customers can now interact more naturally with the products and have a clearer view of their features and functionalities.
AMAZON WAREHOUSE
They offered us a fast and high quality solution. GURU VR virtualized our facility with their optimal and effective capture tool in record time. We found the customized result to be very suitable for the industry. We will use the tool again to virtualize more franchises.

BENETEAU AVANT-GARDE IN BOATING
Virtualizing our fleets with GURU VR has been a real success. Not only has it allowed us to increase sales thanks to fewer physical visits, but we can also include and renew all the information we need easily and without losing our aesthetics - an incredible experience!
HILTON HOTELS & RESORTS
We have enhanced our guests' experience by adding all kinds of information in our virtual space, and expanded the efficiency and convenience of our booking process with the ability to view a particular room and book it directly from the virtual space.
LOUIS VUITTON
Now our customers have the opportunity to live a more up close and personal LV experience. Thanks to GURU VR, customers can explore every detail of our products, from fabric textures to the finest finishes, all in a hyper-realistic virtual showroom.
ROLEX WATCH STORE
Rolex remains at the forefront of the virtual world, allowing customers to experience the brand in detail from the comfort of their homes with GURU VR. This technology helps us to build loyalty with our customer base and reach a wider audience.

ADIDAS STORE
We invite customers to live a unique and complete experience in the virtual store, exploring in detail the products with the possibility of booking and purchasing directly from the virtual space, a clear example of how technology is revolutionizing the way we purchase products.
TESLA MOTORS
The tool has been a great addition to our sales and marketing process, allowing us to show amazing details of our vehicles virtually. The quality of the virtual experience is impressive and has helped improve customer satisfaction.